(Rental)-D'em Up: Five Steps To Relentless Defense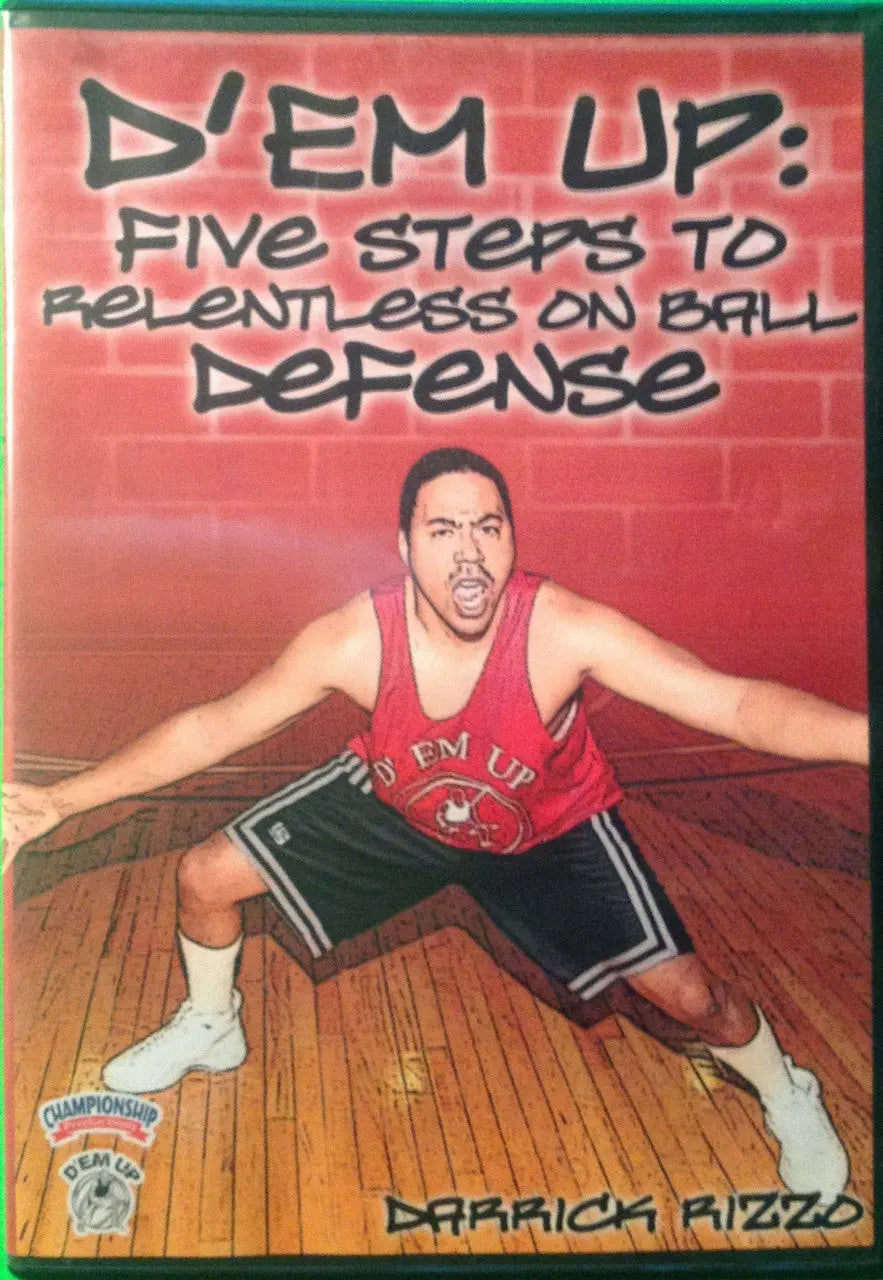 Description
d'em Up: Five Steps To Relentless On Ball Defense
intense On-the-ball Pressure Can Physically And Mentally Wear Down An Opponent Throughout The Course Of A Basketball Game. Darrick Rizzo, Who Once Held Nba Great Kobe Bryant To Just Eight Points In A High School Game, Teaches You His D-unit 101 Defensive System In This Video. If You Are Looking For A High-energy, Unique Approach To Teaching On-the-ball Defense, Rizzo Has It For You.
rizzo, The Director Of D'em Up Basketball, Teaches You His System Which Is Based On His Five Steps To Absolutely Stifling Defense. You Will Catch His Passing And Enthusiasm As Goes Through Each Step.
step 1: The Stance. It All Starts With The Stance. The Ability To Change Direction Quickly Requires Defenders To Maintain A Fundamentally Sound Stance. Rizzo Shows You The "slide Test," A Method You Can Use To Test A Player's Stance And His Slide Technique.
step 2: Move The Correct Foot First. Surprisingly, Or Maybe Not So Surprisingly, Many Defenders Will Step With The Wrong Foot First And Get Out Of Position. Rizzo Shows You How Sliding With The Correct Foot First Can Make Players Quicker Giving Them The Ability To Be Smothering Defenders.
step 3: Drop Step And Attack. Cutting Of A Dribbler Is Paramount To Pressure Defense. Learning The Drop Step And How To Keep Pace With A Dribbler Requires Skill. Rizzo Teaches The Heel-toe Technique To Help Players Recover Quicker Against A Ball Handler.
step 4: Smother The Ball. When A Player Picks Up His Dribble, Defenders Must Attack The Dead Ball. Rizzo Teaches A Unique Arm Motion For Attacking Dead Balls.
step 5: Draw The Charge. Ball Pressure Heightens The Level Of Frustration For A Dribbler. Oftentimes, Ball Handlers Will Try To Create Space Against An In-your-face Defender. Learn How To Correctly Draw A Foul By Taking A Charge In These Situations.
in Addition To The Five Steps, Rizzo Also Shares With You Four Drills That Can Be Used To Teach Each Of The Steps Above. Coach Rizzo's Disciplined Approach To Defense Can Be Taught To Players Of All Ages And Used At Any Level Of Competition.
68 Minutes. 2009.
Design your custom product in 1 minute!
Custom Coaching Products