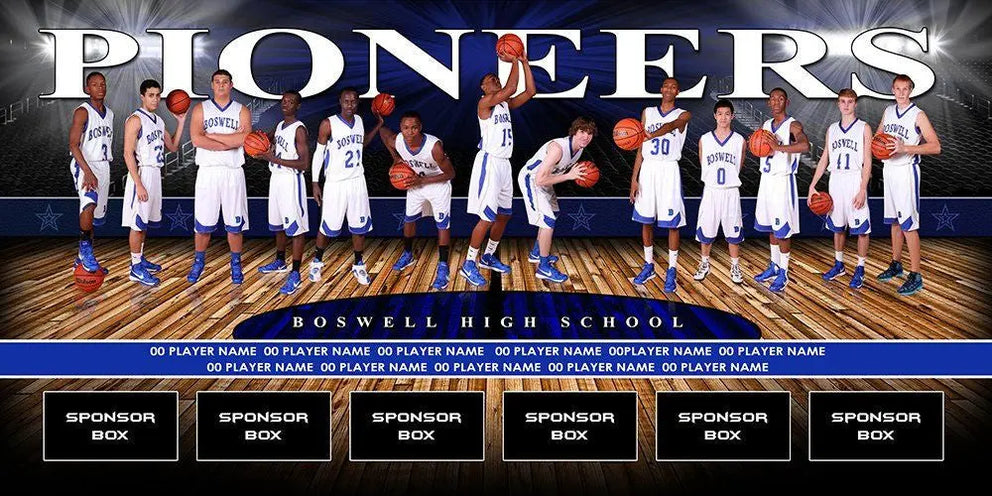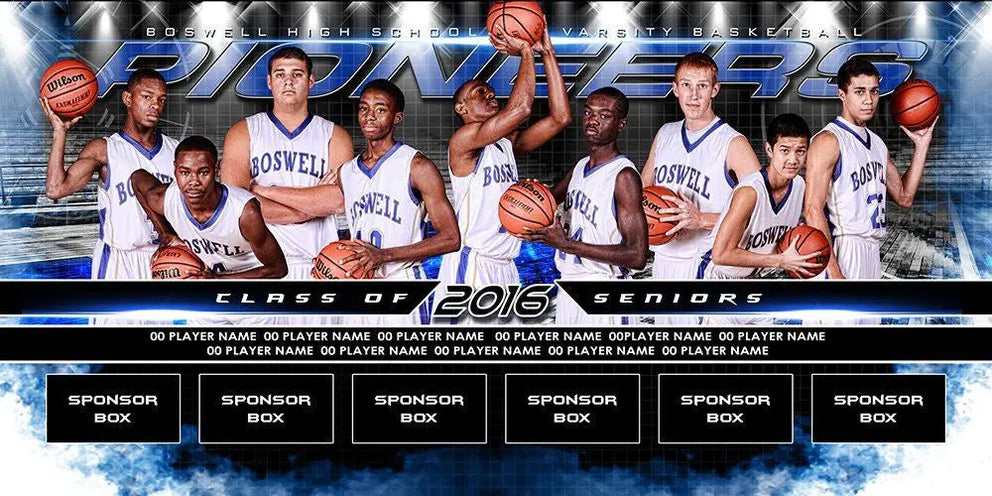 HoopsKing
Custom Sports Team Banners
from

$159.99
Custom Banner Images Player Images - you can email us the images if you don't have a link to provide to a DropBox (or other) folder. Sponsor Images  - Same as above, email us your sponsor images or provide a link to a folder with them in it.  Ask your sponsors for a high quality image for printing. Custom Banner Proofs  A Proof will be sent to be approved prior to printing and shipping.  We only provide proofs for existing orders and not prior to an order being placed.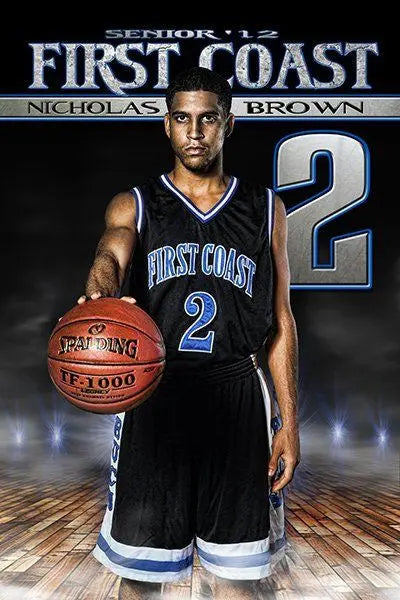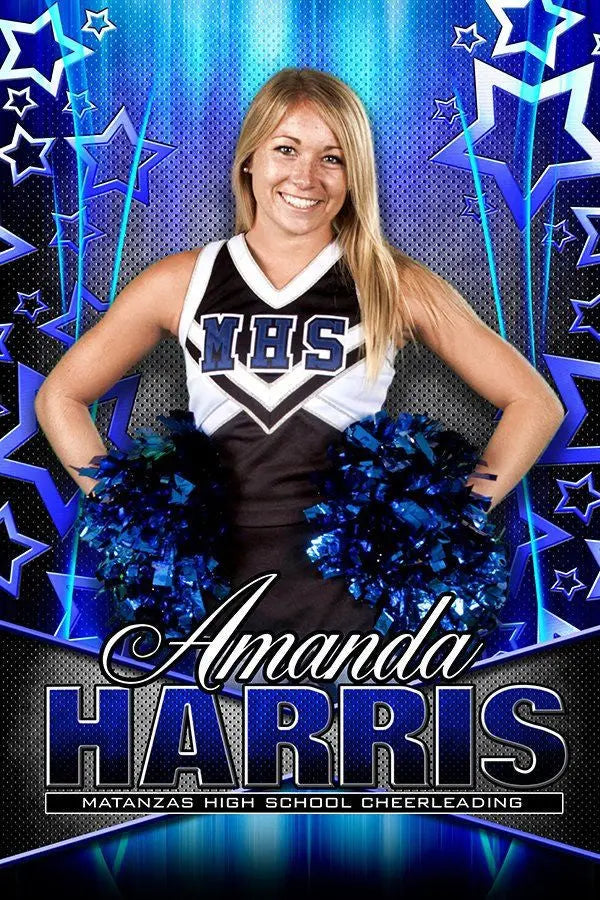 HoopsKing
Super FX Custom Sports Player Banners
$79.99
Add Some WOW! to Your Senior Sports Banners with our SuperFX Graphics...Take Your Custom Sports Banners to Another Level! Also great for any age sports team that wants to add some team spirit to the season Celebrate Your Season All Season! The HoopsKing SuperFX Player Banners are Eye-Popping! Bring a new level of excitment to your Athletic & Activity Programs. Just hang the banner and the excitement starts and lasts all season long. Create Buzz! Your students, fans, parents, and even OPPOSING Teams will be talking about how great your banners look. With a HoopsKing SuperFX Banner you will add a touch of professionalism to your school and program without speaking a word. Easy Recruiting Tool! When you hang your HoopsKing SuperFx sports banners you sending a message to younger players that participating in school sports & activities is important. You WILL get more kids going out for sports because the bottom line is that every young kid is going to want to have their banner hanging on a wall someday. They will look up at the banners and see themselves there someday. They will want that recognition of being part of the team and will decide to go out for the team in the future. It's an easy way to increase participation and excitement in your programs. Easy & Fast! Simply grab your smart phone or camera and take your player's photos in a matter of minutes. Place your order and send us your pictures and we'll take care of the rest. No waiting on a photographer's schedule and taking weeks to get your banners. You'll also avoid the photography fees that add to the cost. Tips for Taking Pictures for Custom Sports Banners Choose from these Custom Basketball Player Sports Banners... Choose from these Custom Cheerleading Banners... Choose from these Custom Volleyball Player Banners... How to Order Your Custom Sports Banner Choose the Banner Template you like the best. Enter your Player Information Choose Your Banner Size Upload Your Team Logo Upload Your Player Photo If you'd rather order through email we can do that too. Just email us at support@hoopsking.com and tell us what you need. We'll send you an invoice via email for payment and we'll get your order going. We can do any club or activity you want - it doesn't have to be sports to celebrate your students! The Design Process for Your Custom Sports Banner After you have placed your order, our design specialists will get to work on your custom sports banner. You provide the player pictures and we take care of the rest. We will email you a proof to approve. You can make any changes until the design is exactly what you want. Once you approve the proof we will move to printing the banner and ship it out. You will receive an email once the banner has shipped. About Our Custom Sports Banners Superior Quality  - Ready to take on the elements our banners are printed on indoor/outdoor 13 Oz. Scrim Vinyl material. Our banners will stay looking great indoors or outdoors. Lifelike Image - Our SuperFX banners have incredible depth to the image bringing the player to life with a gloss finish. Deep colors make our banners bright and colorful. You just can't be beat our banners when it comes to image quality. Easily Hang Your Banner - Hang your banner easily with strong and durable metal grommets in every corner and the middle of your banner. Latest Printing Technlogy - We use the latest and greatest printing methods with UV Solvent inks that will keep your banner looking great and resistant to weather and fading. Done for You Design - We'll take your image, extract it from the background, match your school colors to the background, and make it look freaking fantastic! Quick Turnaround - We know you will be anxiously awaiting your banner after ordering so we will get them out the door within 5 business days. This includes our Full Service design and printing. Player Photography Recommendations Smart Phone photos will work just fine. Try to photograph your player on a plain background. We will extract them from the image no matter what you send but it will make it easier for our designers to complete the banner if photographed against a plain background. If ordering multiple banners, please try to take the photos at the same time for there will be similar lighting.