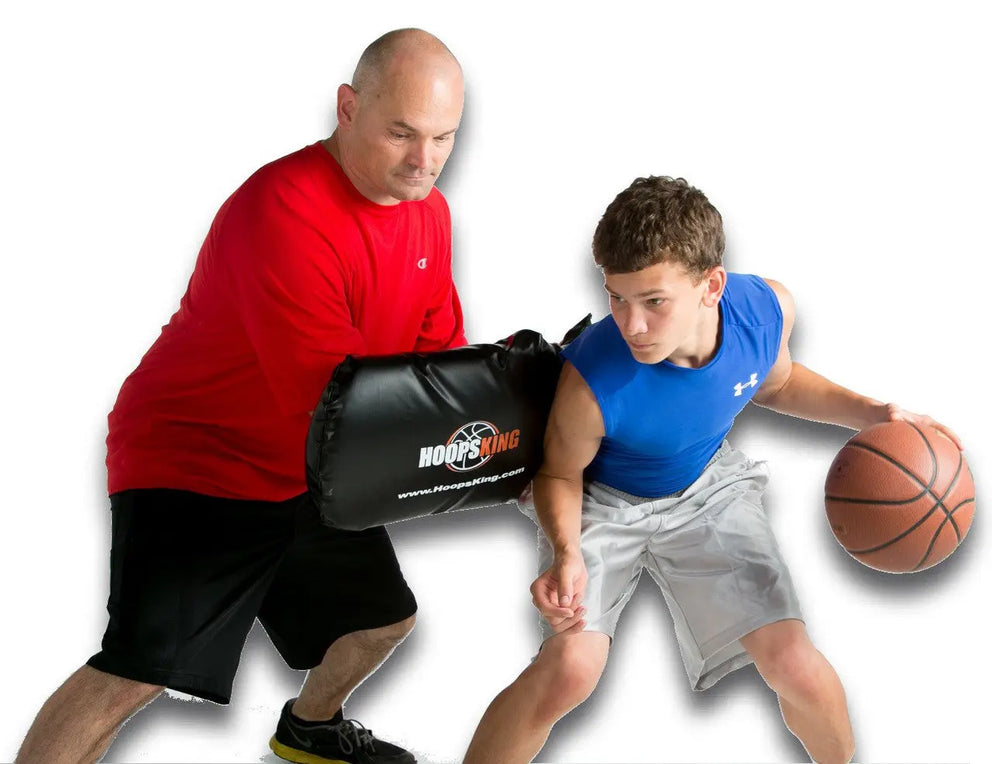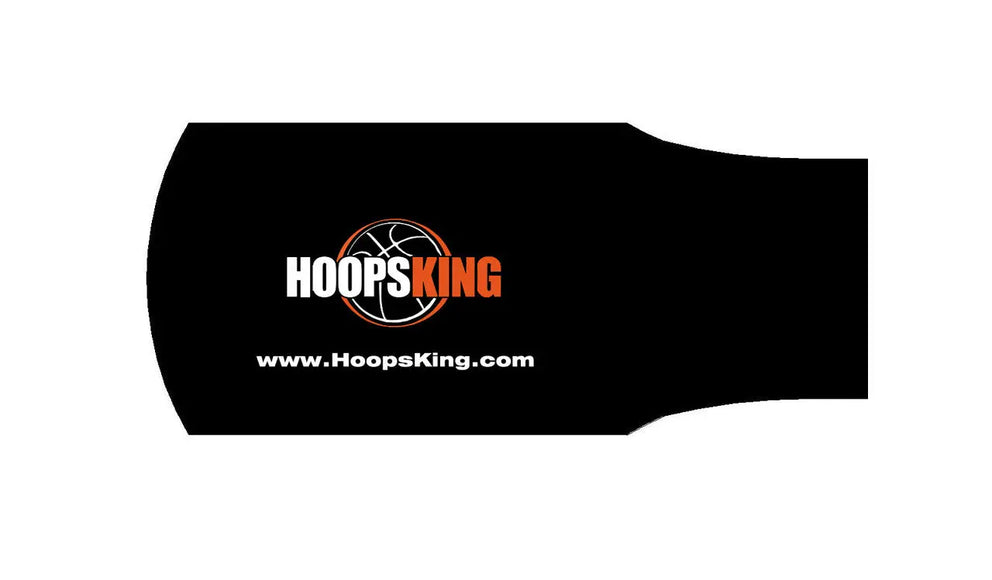 HoopsKing
HoopsKing Basketball Toughness Training Pad
$69.99
The HoopsKing Toughness Training Pad is a light weight pad worn on the forearm that allows coaches, trainers, and players to easily add contact to drills.  Unlike big, blocky pads, this basketball training equipment is light enough to run up and down the court with.  Use the pad in the following ways and more: Finishing Moves -  contact at the rim Dribbling - body up and get into dribblers and bump them. Shooting - easily remove the pad from your forearm and hold it up to make shooters work on shooting over longer and taller defenders. Rebounding - use the pad in rebounding drills to force the rebounder to be strong with the ball and land on balance. and More! - any drill you want to add contact to this is the pefect pad to use.  Gives you all the contact of big bulky pads but smaller and lighter. What the Boss Says Chris Hungerford HoopsKing.com CEO   I have used the Toughness Training pad for many years. As a coach you can quickly find out who can handle contact and who can't.  The majority of kids I've coached don't like contact.  I used the pad during layups and just tap the kids with the pad to get them used to being hit and putting their focus on making the layup instead of the contact. The goal of using this pad is to get players used to contact so that it doesn't bother them in games. They will also learn to lower their center of gravity and become more explosive because when someone is pushing on you you can't stand up.  There was a funny instance when I was using the pad with a player who had not practice vs. contact before and the first time I bumped her with the pad she went down.  We both laughed but after that she didn't go down again.  She learned quickly to get lower and be on balance. Here is how I have used the Toughness Training Pad over the years: Stationary Dribbling - Pushing on kids to get them lower in their stance and lock in their core Full Court Dribbling - Bodying up the ball handler to get them to protect the ball Post Play - Bodying up an offensive post player to get them to really learn to get the ball down low Shooting - holding up the pad to make kids shoot over a defender and create a higher arc This pad is much better than the big blocky pads out there because you can move up and down court with this pad easily since you wear it on your forearm. You can keep one hand free.  There have been many times I've been wearing the pad and will call for the ball and demonstrate something  while still wearing the pad.  I don't have to put a pad down and then pick it back up.  I don't miss a beat when I wear the Toughness Training pad.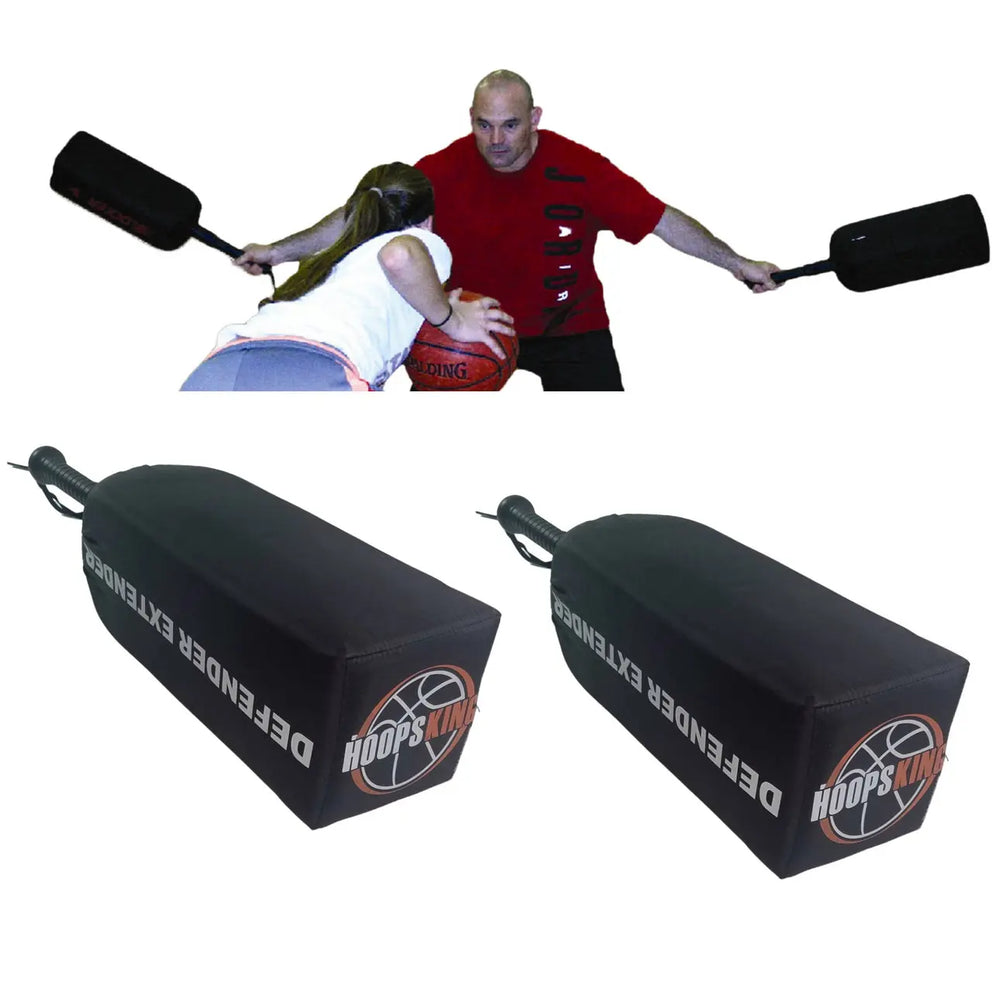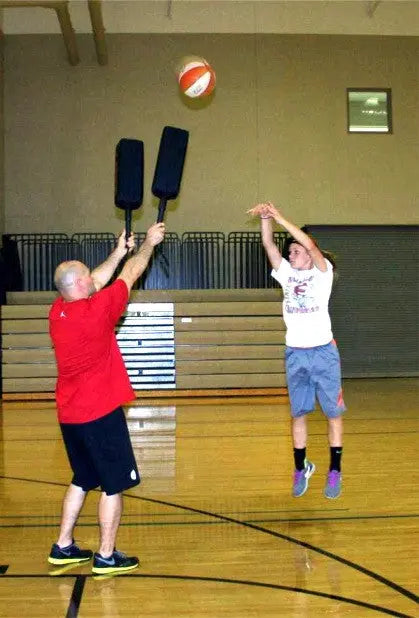 HoopsKing
Defender Extender™ Basketball Training Pads
$89.99
$99.99
Prepare Players to Face Longer, Taller, & more Athletic Players...Before they Get to the Next Level Teach players how to move the defense without taking a gazillion dribbles. Watch how good players in college and the pros use jabs, fakes, and straight line drives to score. The Defender Extender pads help players do this against simulated taller players so it's easy when they go against smaller players. Learn to shoot over a coach or trainer with the Defender Extender Training Pads will make it easy for you to shoot over taller players in real games. Learn exactly how much space you need to get your shot off or how high that floater has to be to become unstoppable in the paint. Simulate Practicing Against Players as Big as the Pros! Imagine if you could practice against Kevin Durant every day for a summer. How much better would you get? If you were a high schooler and worked on your offensive moves every day vs. Durant and then went back to your normal level of competition how easy would it be for you to dominate?  Practicing against someone so big and long would make your normal level easy. Introducing the Defender Extender training pads. The Defender Extender training pads allow a coach, trainer, or partner to simulate a much taller player than you would normally play against. As you move up levels in basketball, from junior high to high school, high school to college, college to the pros, your competition will get taller, longer, and more athletic. The Defender Extender training pads can simulate all 3 of these even though you don't have Kevin Durant to practice against! With the Defender Extender training pads you will have to work that much harder to get your shot off, dribble the ball down the floor, drive to the basket, finish at the rim, make a pass, and more! The Defender Extender training pads are truly must have basketball training equipment for any team or individual serious about developing and becoming the best player they can be. Here are some great uses of the Defender Extender training pads: Dribbling – Have a partner use the Defender Extender training pads while you bring the ball down the floor. Your defender quickly has the wingspan and reach of an NBA guard. You will really learn to protect the basketball and utilize changing speeds & direction efficiently to overcome the increased reach and quickness of the defender. Offense Moves – Whether in the post or driving to the basket, playing against a taller, longer, and more athletic player will require you to outsmart the defense to beat them. Once you become inferior athletically, you must become superior mentally if you are going to compete at that level. The Defender Extender training pads are perfect for any age. Just adjust your hands on the sticks to change your wingspan. They are made of very soft material and it does not hurt to get hit with them so they are also good for contact drills. World Renowned Trainer Ganon Baker Loves the Defender Extender Pads... Help Players Score More at the Basket In driving to the basket, the Defender Extender sticks are useful in many ways. Reaching into knock the ball away Contesting the shot and the dribble. Driving at shoulder to hip level. Finishing over taller players Providing Contact Closeout Size: 27" X 6" X 6" (Pad is 16" in length and handle is 11" for a total of 27" in length) Steph Curry Training with the Defender Extender Pads! Pads appear at 6 seconds into the video. Here's What Coaches and Trainers are Saying...