(Rental)-Better Shooting (original)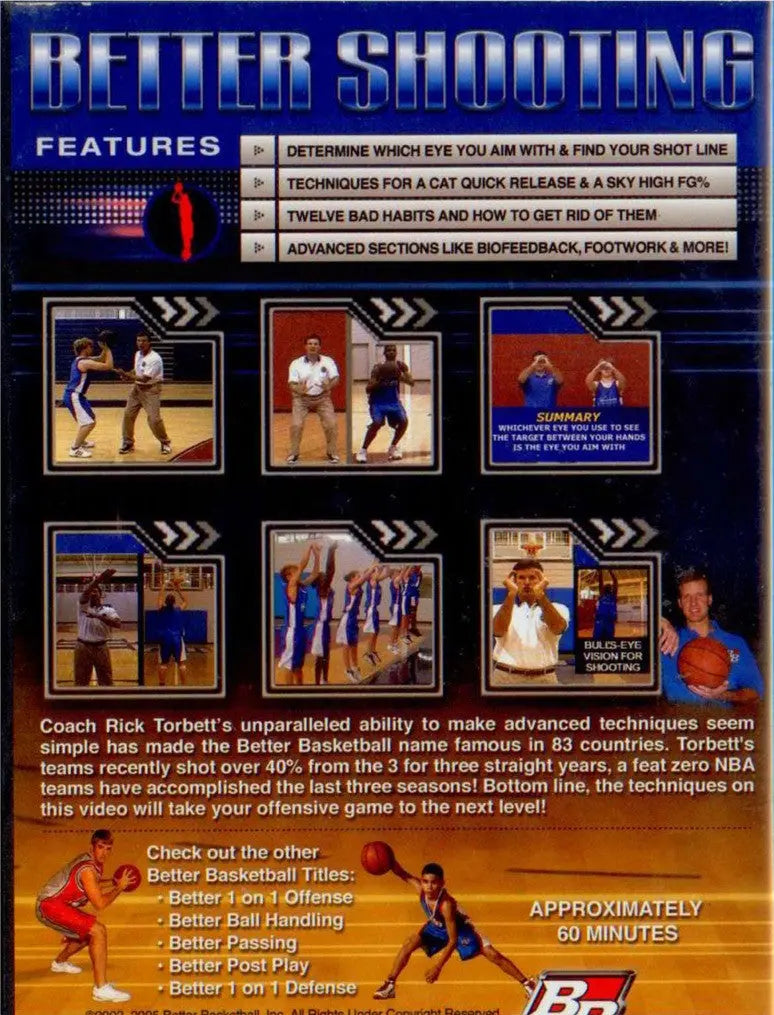 Description
Mastering Better Shooting: Elevate Your Team's Shooting Accuracy and Efficiency
Introduction
Welcome to our comprehensive guide on Better Shooting, a transformative program designed to enhance your team's shooting accuracy and efficiency on the basketball court. In this article, we will delve into the intricacies of Better Shooting, providing you with expert insights, advanced techniques, and detailed breakdowns to help your team become exceptional shooters. Whether you're a coach, player, or basketball enthusiast, this guide is your key to unlocking the full potential of Better Shooting.
Understanding Better Shooting
Better Shooting focuses on developing players' shooting form, technique, and consistency. It emphasizes the importance of proper shooting mechanics, footwork, and mental focus to improve shooting accuracy and efficiency. By implementing the principles of Better Shooting, your team can gain a significant advantage by becoming more reliable and effective shooters.
Key Principles of Better Shooting
1. Fundamentals of Shooting
Better Shooting places a strong emphasis on mastering the fundamentals of shooting. Players learn the proper shooting stance, hand placement, follow-through, and release point. By focusing on the core elements of shooting technique, players can develop a consistent and reliable shooting form.
2. Footwork and Balance
Better Shooting emphasizes the importance of footwork and balance in shooting. Players learn to establish a solid base, maintain balance throughout the shooting motion, and utilize proper footwork to generate power and maintain accuracy. Good footwork enables players to shoot in various situations and positions on the court.
3. Mental Focus and Visualization
Better Shooting teaches players the importance of mental focus and visualization in shooting. Players learn techniques to calm their minds, block out distractions, and visualize successful shots. By developing a focused mindset and visualizing successful outcomes, players can improve their shooting accuracy and confidence.
Implementing Better Shooting
To successfully implement Better Shooting, teams must focus on key strategies and techniques. Let's explore some of the essential elements that will enhance your team's shooting:
1. Shooting Drills
Design shooting drills that focus on the fundamental aspects of shooting technique. Incorporate drills that emphasize proper form, footwork, and shooting under pressure. These drills help players develop muscle memory, consistency, and confidence in their shooting abilities.
2. Shot Selection and Decision Making
Teach players the importance of shot selection and decision making. Help them understand when and where to take shots based on their skill set, offensive strategies, and game situations. By making smart decisions and taking high-percentage shots, players can improve shooting efficiency and contribute to the team's success.
3. Game-Like Situations
Incorporate game-like situations into practice to simulate real-game shooting scenarios. Create drills and scrimmages that mimic the pace, intensity, and pressure of actual games. This allows players to apply their shooting skills in realistic situations and develop the ability to shoot effectively under game conditions.
4. Video Analysis and Feedback
Utilize video analysis to provide feedback and guidance to players. Record and review shooting performances to identify areas for improvement, analyze shooting mechanics, and provide targeted feedback. This visual feedback helps players refine their technique, make necessary adjustments, and track their progress over time.
The Benefits of Better Shooting
Implementing Better Shooting offers numerous benefits that can elevate your team's performance and maximize scoring opportunities. Let's explore some key advantages:
1. Increased Shooting Accuracy
Better Shooting significantly improves shooting accuracy by focusing on proper shooting form, mechanics, and consistency. Players who develop a strong shooting foundation can shoot with precision and accuracy, converting a higher percentage of their shots and maximizing scoring opportunities.
Improved Offensive Efficiency
Better Shooting enhances your team's offensive efficiency by increasing shooting accuracy and effectiveness. When players have consistent shooting mechanics and techniques, they become reliable scoring threats. Improved shooting efficiency translates to more points on the scoreboard and puts pressure on the opposing defense.
Spacing and Floor Balance
Better Shooting promotes proper spacing and floor balance within your team's offense. When players can shoot with confidence and accuracy, it stretches the defense and opens up driving lanes for teammates. This creates better opportunities for ball movement, player movement, and overall offensive flow.
Increased Confidence and Team Morale
Better Shooting builds confidence in players' shooting abilities and boosts overall team morale. When players see their shots consistently falling, it instills a sense of belief and confidence in their skills. This confidence carries over to other aspects of the game and creates a positive team atmosphere.
Competitive Advantage
Implementing Better Shooting provides your team with a competitive advantage over opponents. When your team can shoot at a high percentage, it forces the defense to respect their shooting ability, which opens up opportunities for drives, passes, and offensive rebounds. This advantage puts pressure on the opposing team and gives your team an edge in close games.
Conclusion
Better Shooting is a transformative program that enhances shooting accuracy, efficiency, and overall team performance. By implementing the key principles, strategies, and techniques outlined in this guide, you will equip your team with the tools necessary to become exceptional shooters. Remember, mastering Better Shooting requires consistent practice, proper technique, and mental focus. So, embrace the art of better shooting, unlock your team's full potential, and watch as their improved shooting elevates their offensive capabilities and leads to greater success on the basketball court. The path to basketball excellence starts with better shooting!
Design your custom product in 1 minute!
Custom Coaching Products