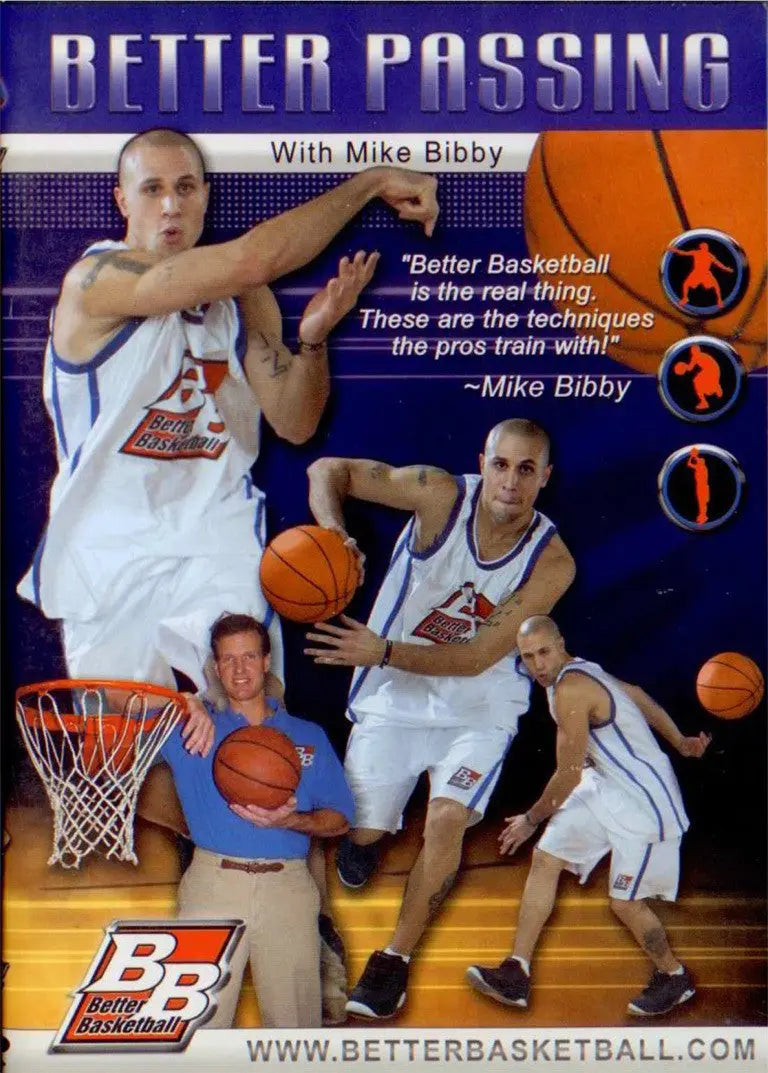 Description
Mastering the Art of Better Passing: Elevate Your Team's Performance
Introduction
Welcome to our comprehensive guide on Better Passing, a game-changing program designed to enhance your team's passing skills and elevate their overall performance on the basketball court. In this article, we will delve into the intricacies of Better Passing, providing you with expert insights, advanced techniques, and detailed breakdowns to help your team become exceptional passers. Whether you're a coach, player, or basketball enthusiast, this guide is your key to unlocking the full potential of Better Passing.
Understanding Better Passing
Better Passing is a specialized program developed by basketball experts that focuses on improving passing skills, precision, and decision-making. It emphasizes the importance of crisp, accurate passes as a foundation for successful offensive plays. By implementing the principles of Better Passing, your team can gain a significant advantage by maximizing scoring opportunities and creating a dynamic offensive flow.
Key Principles of Better Passing
1. Fundamentals of Passing
Better Passing emphasizes mastering the fundamentals of passing. This includes techniques such as chest passes, bounce passes, overhead passes, and one-handed passes. Players are taught to maintain proper form, utilize the appropriate amount of force, and deliver passes with accuracy and precision.
2. Vision and Court Awareness
Better Passing focuses on developing players' vision and court awareness. Players learn to scan the court, anticipate openings, and make intelligent decisions based on the movements of teammates and defenders. This heightened awareness enables players to deliver timely and effective passes to create scoring opportunities.
3. Passing under Pressure
Better Passing trains players to pass under pressure and make accurate decisions even when faced with tight defense or traps. Players learn to maintain composure, make quick reads, and deliver passes that keep the offense flowing. This ability to pass under pressure prevents turnovers and maintains offensive momentum.
Implementing Better Passing
To successfully implement Better Passing, teams must focus on key strategies and techniques. Let's explore some of the essential elements that will enhance your team's passing abilities:
1. Skill Development Drills
Design skill development drills that focus specifically on passing techniques and decision-making. Incorporate drills that simulate game situations, such as passing out of double teams, making skip passes, and executing fast breaks. These drills enhance players' passing skills, court awareness, and ability to make accurate decisions under pressure.
2. Court Vision Exercises
Include court vision exercises in your practice sessions to improve players' awareness of the court and their teammates. These exercises can involve scanning the court, identifying open players, and making precise passes to exploit defensive weaknesses. Regular practice of court vision exercises enhances players' ability to make split-second decisions and deliver accurate passes.
3. Game Simulation
Integrate game simulation activities into your training sessions to provide players with practical experience in passing under pressure. Organize controlled scrimmages or game-like scenarios where players can apply the skills they have learned in a realistic setting. This allows them to practice making accurate passes while facing defensive pressure and making quick decisions.
4. Film Analysis
Incorporate film analysis as a valuable tool to improve passing skills. Review game footage to identify passing opportunities, assess decision-making, and analyze the outcomes of different passes. This process helps players understand the impact of their passing choices and provides opportunities for improvement.
The Benefits of Better Passing
Implementing Better Passing offers numerous benefits that can elevate your team's performance and enhance their overall gameplay. Let's explore some key advantages:
1. Improved Offensive Efficiency
Better Passing enhances offensive efficiency by facilitating seamless ball movement and creating scoring opportunities. Crisp, accurate passes 
allow the offense to flow smoothly, making it harder for the defense to disrupt plays. By implementing Better Passing techniques, your team can increase the number of open shots, make better use of spacing, and create a more dynamic and effective offensive system.
2. Enhanced Court Awareness
Better Passing develops players' court awareness, enabling them to see and anticipate opportunities for passing. This heightened awareness allows players to make quicker and more precise decisions, resulting in improved ball movement and increased offensive productivity. By being more aware of their surroundings, players can make passes that exploit defensive gaps and create scoring opportunities for their teammates.
3. Reduced Turnovers
Improved passing skills lead to a reduction in turnovers. By focusing on the fundamentals of passing and making accurate decisions under pressure, players can minimize risky passes and turnovers that can disrupt the flow of the game. Better Passing emphasizes the importance of making the right pass at the right time, resulting in fewer turnovers and more possession opportunities for your team.
4. Enhanced Team Chemistry
Better Passing promotes better team chemistry and cohesion. As players become more proficient at passing, they develop trust and understanding with their teammates. The ability to make accurate passes strengthens the bond between players and fosters a sense of unity on the court. This improved chemistry translates into better teamwork and more efficient offensive plays.
5. Versatility and Adaptability
Better Passing equips players with a versatile skill set that can adapt to different game situations. Effective passing allows players to respond quickly to defensive adjustments, break through double teams, and find open teammates. The ability to adapt and make accurate passes under pressure gives your team an edge in challenging game scenarios, making them more resilient and versatile on the court.
Conclusion
Better Passing is a game-changing program that enhances passing skills, court awareness, and decision-making abilities. By implementing the key principles and techniques outlined in this guide, you will equip your team with the tools necessary to elevate their passing game and improve overall performance. Remember, mastering Better Passing requires practice, repetition, and a commitment to continuous improvement. So, embrace the art of better passing, unlock your team's full potential, and watch as their improved passing skills transform your offense into a dynamic, unstoppable force. The path to basketball excellence starts with better passing!
Design your custom product in 1 minute!
Custom Coaching Products