(Rental)-All Access: Scott Cross (ut-arlington)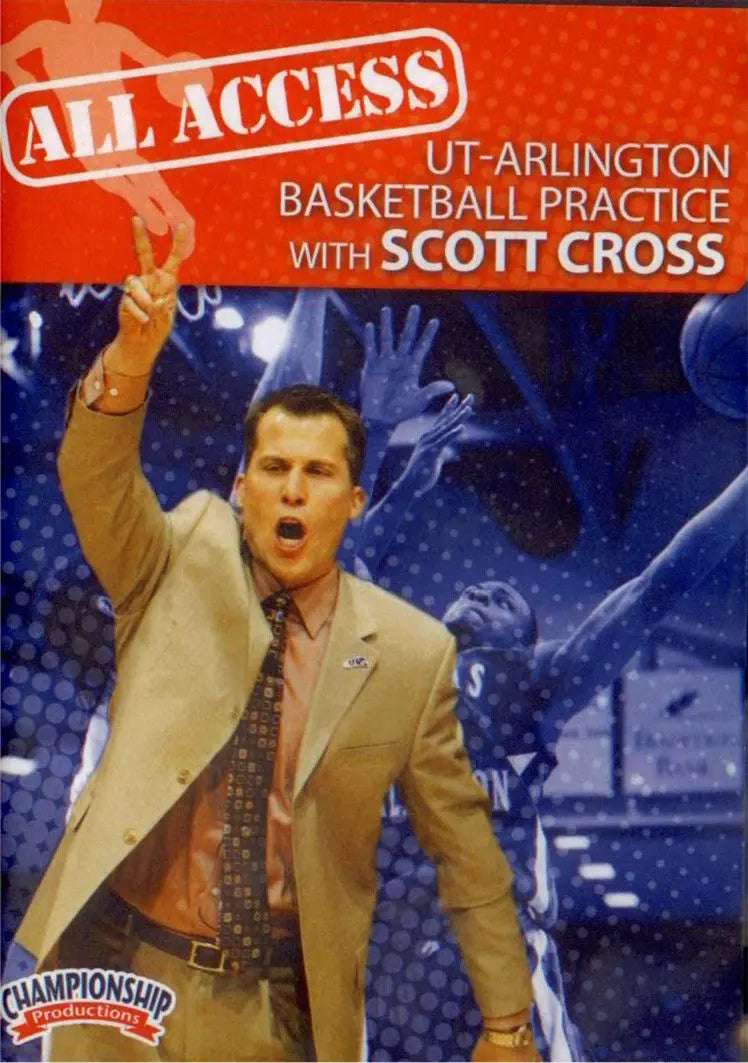 Description
Basketball Practice with Scott  Cross
The players will be learning the basic breakdown drills that the coach uses to teach the players aggressive full-court and half-court defense. Apart from this, the Coach Cross will also explain fundamentals of team's ball-screen offense.
Basketball Practice Video 1:
The coach will start from the defensive end of the game and the first practice session is all about defensive drills. The players will be learning the defensive principles that have helped the teams of Coach Cross to succeed year after year. The Coach Cross will build a solid foundation of defensive stance and with this he will explain how the players can build man-to-man defense. The Coach Cross will spend lots of time on all this and he will also be building up to a 4-on-4 half court competitive game with a focus on taking charges and communicating.
There are ladder drills which are being used in a closeout drill and will end with the players taking a charge. In their Spurs Shell Drills where the players need to earn their stops to be successful and in this drill the coach will show you a twist to your shell defense. When in a 2-on-2 Turn Drill, a foundation will be laid by coach in order to build a successful Run and Jump Full Court Press. All these drills are very important as it will take the players out of their comfort zone and will push them to their limits.
Basketball Practice Video 2
The 2nd practice session is all about new and innovative drills. The 2nd practice is a continuation of the first one as Coach will carry on from the first Disc. In this practice session, the coach will be working even more on the man-to-man defense with the help of numerous progressions. For the Run and Jump Full Court Press the coach will lay out his vision. He will make use of competitive drills in a 2-on-2 full court and half court set-up to explain his vision properly.
The coach Cross will explain his half court man offense called Cross keeping in mind that the defense creates scoring opportunities. You will get a new look to a 3-out-2 in motion offense including quick hitting strikes that you will be able to use out of the original set. This will help you keep your opponent on its toes and he will be guessing all the time. There is another competitive drill used by Coach Cross which is Box Shell Drill in which several down screens are set that will help the players get open and also the defenders will be learning how to fight through the traffic.
Basketball Practice Video 3
When it comes to the third practice session, the coach will be giving information about how to teach the players to run pick and roll offense with the help of reading how the defense is actually playing you. Number of breakdown drills are being used by coach Cross to demonstrates this and this will give the players the valuable base. This base will lead them to make plays and develop an attacking and aggressive mentality off of ball screens. The focus will be on reading and reacting to the defense in three ways: caboose, split and twist.
Whether its cavalier pick and roll or pick and roll shooting, you will gain lots of knowledge and will be learning how to teach a ball screen offense. This ball screen offense is very handy for you as it will generate lots of scoring chances. There two very competitive drills that have made the UT-Arlington successful and you will get to learnt these two as well. One drill is 3-on-3 Run and Jump and the second one is Boys to Beast Drill. So, what these drills will do exactly? Well, it will push the players to learn how they can deceive, trap and pressurize their opponent anywhere on the floor. Furthermore, the coach Cross will also show you some of the out of bounds options that team will run along the baseline. Rent Scott Cross' basketball practice plan DVD today.
Design your custom product in 1 minute!
Custom Coaching Products