(Rental)-Special Situations & Offensive Sets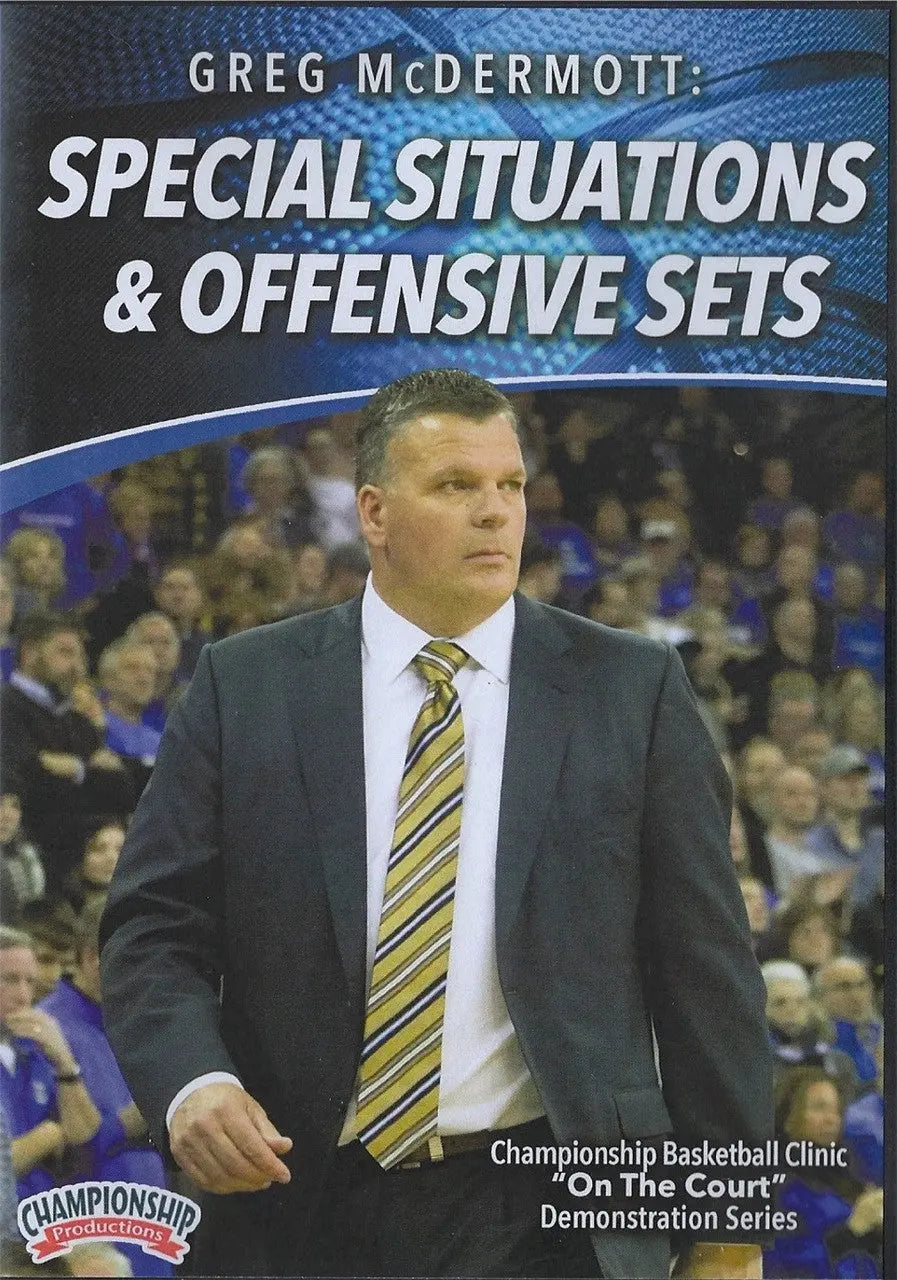 Description
Special Situations & Offensive Sets
Basketball Offense Plays with Coach McDermott. He is one of the most respected basketball coaches in the country. Greg McDermott has taken Creighton to three Missouri Valley Conference tournament championships and five NCAA tournament berths in his eight seasons. In this video, Coach McDermott provides a wealth of knowledge that includes 23 plays, additional counters, out of bounds plays for the baseline and sideline, and three transition defense drills that will help you control the tempo of games.
Using on-court instruction, Coach McDermott shares with you a number of ways to create scoring attempts for the offense as well as how to improve in transition defense, which McDermott believes is paramount to winning basketball games.
Transition Defense Drills
A firm believer in taking away easy scoring opportunities in transition, McDermott sets up three transition defense drills that he uses with his players. Each drill emphasizes stopping the ball, loading the ball side, communication, and weak side flow. All three drills end with the defense converting to offense and working to get a score. McDermott likes his drills to be as game-like as possible.
5-on-3 Transition: The offense is forced to get a shot off quickly since McDermott uses a 12-second shot clock. Communication is emphasized in this drill.
5-on-4 Transition: For teams that do not send their 1- and 2-guards to the boards, this is the perfect simulation. The focus is on double-teaming or pinching out during the box out.
Circle Transition: The drill creates confusion which forces defenders to communicate effectively.
Quick-Hitters Versus Zone
Basketball Offense plays to score against a zone defense. Coach McDermott offers up seven quick-hitting plays to use against the 2-3 zone. The plays contain a number of options like those for getting a specific player open. Need a 3-point shot from the top of the circle? A shot from corner? McDermott shows you how to get the ball into the low post, high post, and more. Some plays build on others and have the same actions and movements. That helps to disguise the true intent of several of the plays. Coach also covers ball movement, player movement, screens, timing, and how to seal as they relate to these quick-hitters.
Out of Bounds and Late Game Plays
In any game, a number of special situations can arise. McDermott takes you through a series of these situations with a variety of set plays.
Baseline Out of Bounds: Here, you will see three plays to get easy looks at the basket. Each features options as well, including the lob.
Sideline Out of Bounds: McDermott reviews four sideline out of bounds plays that can create easy shots or create mismatches. Plays include slips, elevator screens, and 3-point shots that can all be used in late-game situations as well.
Late Game Plays for a 3-pointer: Three plays are demonstrated here that can be used when your team needs a late 3-pointer whether after a time out or on the fly.
You also get Coach McDermott's thoughts on the standard Shell Drill with a couple tweaks that he likes to employ. This helps him review all of his defensive actions in five minutes. This video is full of outstanding information that helps your program succeed on both ends of the floor. Rent this basketball offense plays DVD today.