(Rental)-Defending The Spread Shotgun Wing-t Offense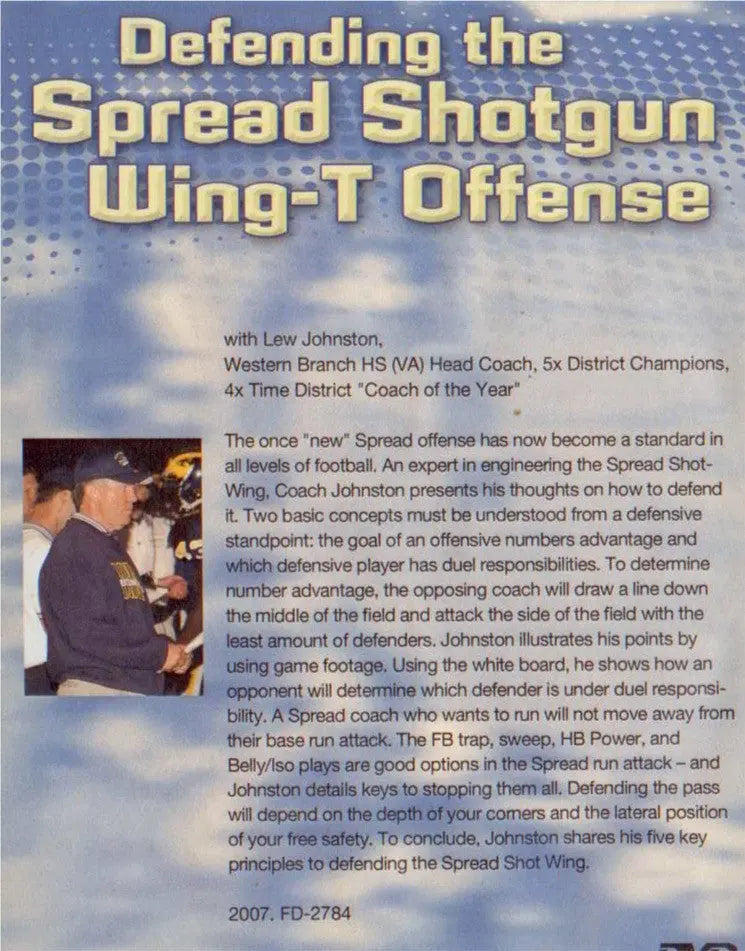 Description
Features & Benefits
Get better at Football coaching
Learn from Lew Johnston
Your team can reach new heights!
To be the best, learn from the best.
Lew Johnston
former Western Branch HS (VA) Head Coach,
5x District Champions
4x Time District "Coach Of The Year"
Spread offense, once "new", has become a standard for all levels of football. Coach Johnston is an expert in the Spread Shot-Wing and shares his views on how to defend it. From a defensive perspective, there are two basic concepts that must be understood: what the offensive numbers advantage is and who has duel responsibilities. The opposing coach will draw an imaginary line across the field from the center of the field, and then attack the side with the fewest number of defenders. This is called number advantage. Johnston illustrates his points using game footage. Johnston uses the whiteboard to show how an opponent will decide which defender is responsible for duel responsibility. Spread coaches who want to run won't move from their base run attack. Johnston outlines the keys to stopping Spread coaches from using the FB trap, sweep and HB Power. The depth of your corners as well as the lateral position and safety of your free safety will be key factors in defending the pass. Johnston outlines his five core principles for defending the Spread Shot Wing.
56 minutes. 2007.