(Rental)-Kansas State's Attacking Eagle Front 5-2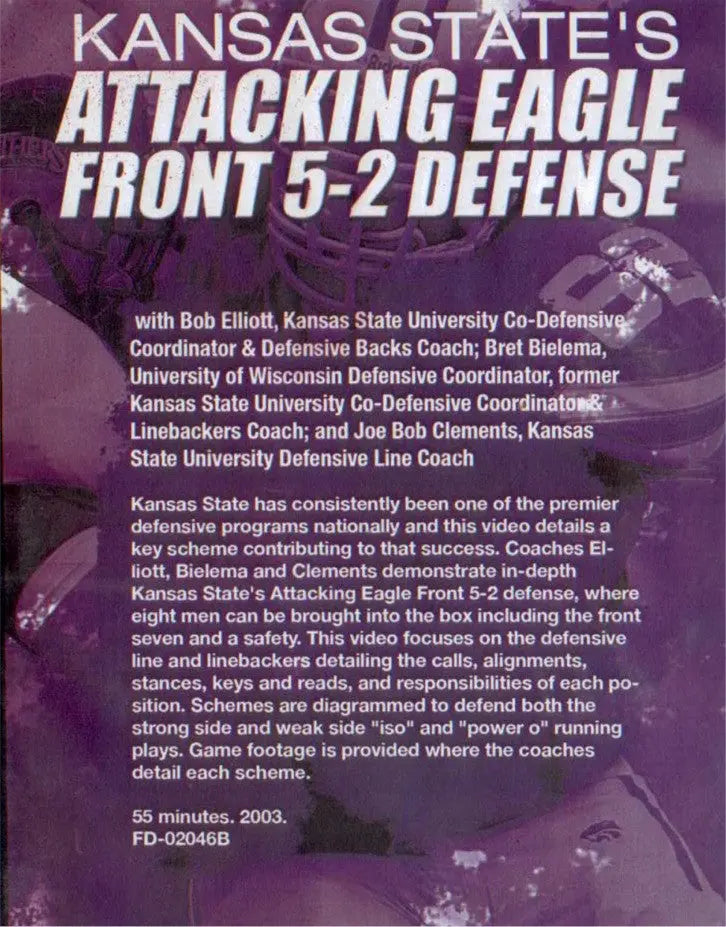 Description
Features & Benefits
Get better at Football coaching
Bret Bielema and Joe Bob Clements share their knowledge with you!
Your team can reach new heights!
To be the best, learn from the best.
Bob Elliott
Former San Diego State University defensive coordinator
Joe Bob Clements
Oklahoma State Linebackers Coach;
Bret Bielema is the University of Illinois Head coach;
New York Giants Outside Linebackers Coach for 2020
New England Patriots – Defensive Consultant to Bill Belichick 2018; Defensive Line Coach 2019
Super Bowl VIII Champions
University of Arkansas Head Coach, 2013-2017
From 2006 to 2012, University of Wisconsin Head Coach
Three-time Big Ten Champion;
2006 Big Ten Coaches of the Year
Defensive Coordinator: Wisconsin (2004-2005), Kansas State (2002 - 2003)
All former members of the Kansas State University coaching staff
This video explains why Kansas State is consistently ranked among the top defensive programs in the country. Clements, Bielema, and Elliott demonstrate Kansas State's Attacking Eagle Front defense 5-2. Eight men can be brought in to the box, including seven of the front seven, and a safety. This video shows the linebackers and defensive line. It explains the key and reads and the responsibilities for each position. Diagrams are provided to protect both the weak and strong sides of "iso" or "power o" running plays. Each scheme is described by coaches in game footage.
55 minutes. 2003.