(Rental)-John Calipari: Speed, Agility And Conditioning Drills For Basketball (calipari)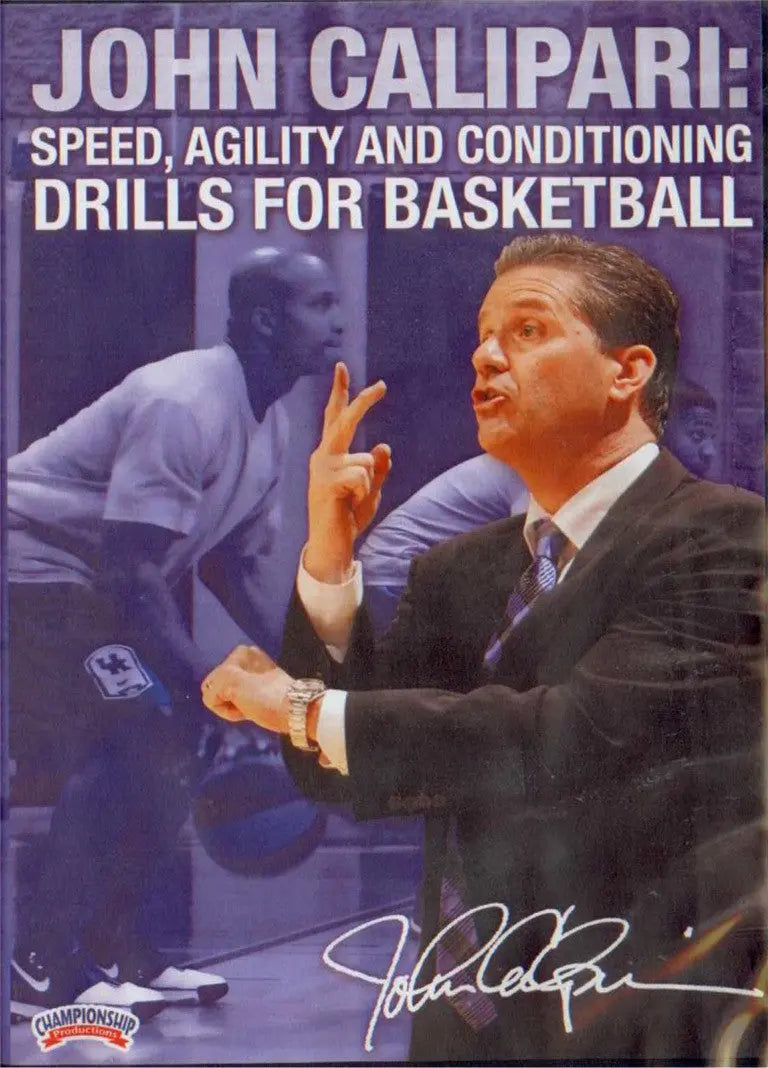 Description
Conditioning Drills for Basketball with John Calipari
Kentucky head basketball coach John Calipari has made a living winning basketball games – lots of them. His Dribble Drive Motion Offense has helped the Wildcats to eight Sweet Sixteens, seven Elite Eights, four Final Fours, and a national championship. In order to run Calipari's brand of offense, players must play with strength and power.
In this conditioning drills for basketball DVD, Calipari and Kentucky strength and conditioning coach Todd Forcier teach you the drills that develop the explosion and lateral quickness required to drive by defenders. You will see non-traditional exercises used to train muscles for game situations and how to develop an explosive first step.
The workout that you will see is divided into three phases: legs, core, and foot speed. Coach Forcier takes athletes into the weight room and through a number of exercises designed to strengthen the legs and the core. The athletes move to the court to do the drills that focus on improving foot speed.
Speed and Agility Drills for Basketball with John Calipari
Forcier takes his athletes through 11 different exercises utilizing a medicine ball to work on developing speed and power in the lower body. The exercises also work on athletes' conditioning. You will see how Forcier stresses the importance of staying low in a good defensive position. This helps to train the muscles for game-like conditions.
One of the keys to running Calipari's Dribble Drive Motion Offense is balance. Athletes build better balance by developing their core strength. Coach Forcier demonstrates 40 different exercises designed to strengthen the core. You will all sorts of exercises from single leg drills to a push up series that all work on an athlete's core.
Footwork Drills for Basketball
The final part of the video presentation is all about footwork. Coach Forcier will show you 14 different quick feet drills that are used to build a player's foot speed and quickness. This gives an athlete the ability to cover more ground and do so quickly. Coach Forcier also works some stride drills to help lengthen players' stride as they move down the court. The idea is to help them get down the floor faster.
All of the drills in this video will push your players to what Coach Calipari calls the "Sweet Pain." Players push themselves in these drills to build the necessary level of conditioning needed to play in the Dribble Drive Motion Offense. This 41-minute video can help you develop a quicker, more powerful team before your next season begins. Rent this conditioning drills for basketball DVD today.
Design your custom product in 1 minute!
Custom Coaching Products