(Rental)-Better Post Play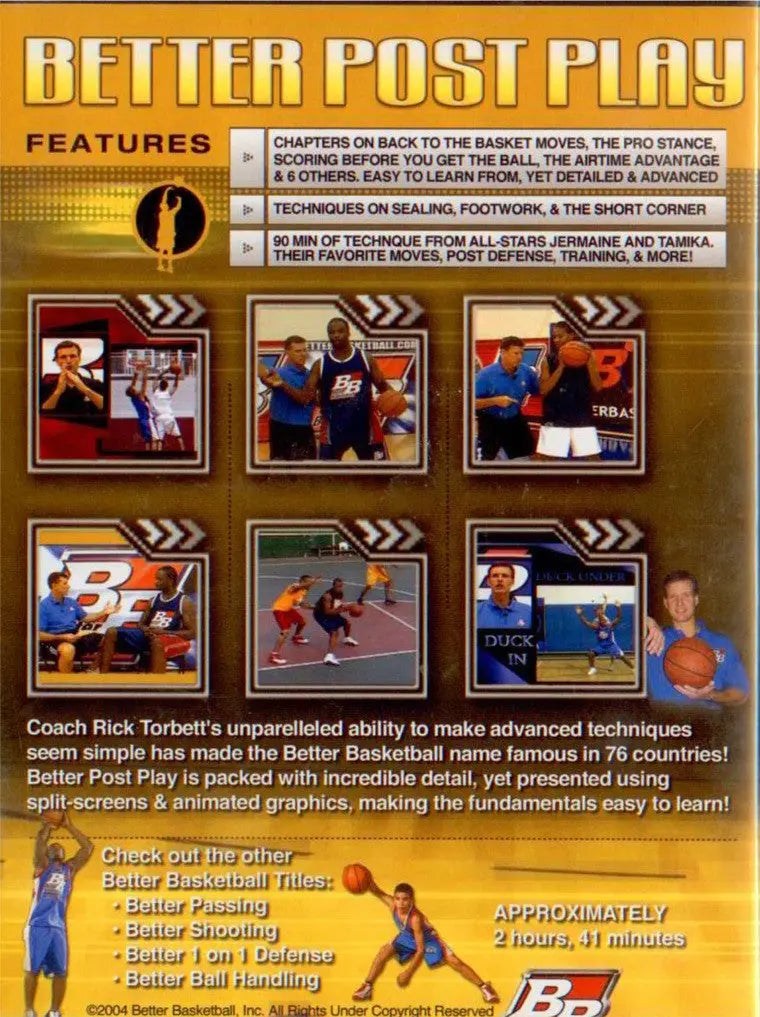 Description
Mastering the Art of Better Post Play: Dominating the Paint
Introduction
Welcome to our comprehensive guide on Better Post Play, a transformative program designed to enhance your team's performance in the paint. In this article, we will delve into the intricacies of Better Post Play, providing you with expert insights, advanced techniques, and detailed breakdowns to help your team become dominant forces in the low post. Whether you're a coach, player, or basketball enthusiast, this guide is your key to unlocking the full potential of Better Post Play.
Understanding Better Post Play
Better Post Play is a specialized program developed by basketball experts that focuses on improving skills, footwork, and decision-making in the low post area. It emphasizes the importance of positioning, physicality, and effective moves to score, rebound, and create opportunities for the team. By implementing the principles of Better Post Play, your team can gain a significant advantage by dominating the paint and controlling the game.
Key Principles of Better Post Play
1. Positioning and Sealing
Better Post Play emphasizes proper positioning and sealing techniques in the low post. Players learn how to establish deep post position, create space, and prevent defenders from disrupting their scoring opportunities. By mastering these principles, players can receive passes in advantageous positions and initiate scoring plays efficiently.
2. Footwork and Moves
Better Post Play focuses on developing precise footwork and a repertoire of effective post moves. Players learn various techniques such as drop steps, up-and-under moves, jump hooks, and fadeaways. These moves, combined with proper footwork, allow players to outmaneuver defenders, create scoring opportunities, and draw fouls in the paint.
3. Decision-Making in the Post
Better Post Play trains players to make intelligent decisions in the post area. Players learn to read the defense, identify double teams, and make quick decisions on passing or scoring. This decision-making ability enables players to capitalize on scoring opportunities or find open teammates when facing defensive pressure.
Implementing Better Post Play
To successfully implement Better Post Play, teams must focus on key strategies and techniques. Let's explore some of the essential elements that will enhance your team's performance in the low post:
1. Fundamental Drills
Design fundamental drills that focus on positioning, footwork, and post moves. Incorporate drills that simulate game scenarios, such as one-on-one post battles, rebounding drills, and scoring challenges. These drills help players develop the necessary skills and muscle memory required for effective post play.
2. Post Entry and Passing
Include post entry and passing drills as integral parts of your practice sessions. Emphasize the importance of delivering accurate passes to players in the low post and teach teammates how to recognize and execute post entry passes. Strong post entry and passing skills create opportunities for easy baskets and enhance overall team play.
3. Game Simulation
Integrate game simulation activities into your training sessions to provide players with practical experience in the post. Organize controlled scrimmages or game-like situations where players can apply the skills they have learned in a realistic setting. This allows them to practice positioning, footwork, and decision-making while facing live defense.
4. Strength and Conditioning
Developing strength and conditioning is crucial for better post play. Implement strength training exercises that focus on lower body strength, core stability, and explosiveness. Improved physicality and endurance enable players to establish and maintain position in the post, fight for rebounds, and finish strong at the rim.
The Benefits of Better Post Play
Implementing Better Post Play offers numerous benefits that can elevate your team 
's performance and dominance in the paint. Let's explore some key advantages:
1. Increased Scoring Efficiency
Better Post Play enhances scoring efficiency by equipping players with the skills and techniques necessary to score effectively in the low post. By mastering positioning, footwork, and a variety of post moves, players can create high-percentage scoring opportunities and convert them into points. This increased scoring efficiency puts pressure on the opposing defense and contributes to overall offensive success.
2. Offensive Rebounding Advantage
Better Post Play emphasizes the importance of offensive rebounding and provides players with the tools to excel in this area. By mastering positioning, timing, and boxing out techniques, players can secure offensive rebounds and create second-chance scoring opportunities for their team. Offensive rebounds not only lead to additional points but also demoralize the opposing team and provide a significant boost in momentum.
3. Drawing Fouls and Free Throw Opportunities
Effective post play often results in drawing fouls from the opposing team. Better Post Play teaches players how to use their body, footwork, and post moves to initiate contact and draw fouls. This ability to draw fouls not only disrupts the defense but also leads to free throw opportunities, allowing the team to score points with the clock stopped.
4. Defensive Presence and Rim Protection
Improving post play extends beyond offense; it also enhances the team's defensive presence. Better Post Play emphasizes defensive positioning, shot blocking, and contesting shots in the paint. By becoming proficient in post defense, players can protect the rim, deter opponents from driving to the basket, and alter or block shots. This defensive presence contributes to a strong overall defense and creates a sense of intimidation for opposing players.
5. Team Cohesion and Offensive Flow
Better Post Play enhances team cohesion and offensive flow. When players in the post possess strong skills, footwork, and decision-making abilities, it opens up opportunities for effective passing and player movement. The team can utilize post players as focal points for the offense, leading to improved ball movement, spacing, and scoring options for all players on the court. This enhanced offensive flow creates a more dynamic and unpredictable team, making it challenging for opponents to defend.
Conclusion
Better Post Play is a transformative program that elevates your team's performance in the paint. By implementing the key principles, strategies, and techniques outlined in this guide, you will equip your team with the tools necessary to dominate the low post and control the game. Remember, mastering Better Post Play requires practice, repetition, and a commitment to continuous improvement. So, embrace the art of better post play, unlock your team's full potential, and watch as their dominance in the paint elevates their overall performance. The path to basketball excellence starts with better post play!
Design your custom product in 1 minute!
Custom Coaching Products