Princeton Offense in Today's Game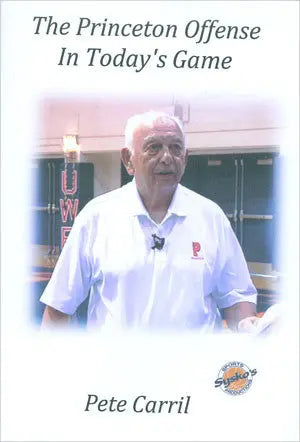 Description
Princeton Offense in Today's Game
The legendary Pete Carril updates his offense in terms of the game today. Carril outlines his points of emphasis: think, see, do; talent = listen and work ethic; what you are doing it not as important as who is doing it; and fundamentals = knowledge, passing, shooting and dribbling. 

He then goes to the floor adding more to the already potent attack. Coach Carril teaches getting into the two-guard front necessary to run the offense and the initial action of low post play. He then adds the side ball screen action to the attack and all the options created from that action. The chin series is reviewed with multiple additions including dribble handoff, back cut, ball screen, UCLA cut and UCLA cut into a side ball screen. Carril then adds all of the offensive action that can be used from the corner and the pinch post.
Princeton Offense Drills
The DVD also includes shooting drills, plays out of time outs, a conditioning drill he picked up from the New York Knicks in the 50's and a three-point shot out of low post play. The DVD also includes a 25-minute interview with Pete Carril as he talks about the origins of the offense, his teaching and coaching philosophy, and much more. This is a must have for anyone interested learning more about the great Pete Carril and his offense. Running Time: approx. 120 Minute. 2008
Order the Princeton Offense in Today's Game and run a dominate Princeton Offense.