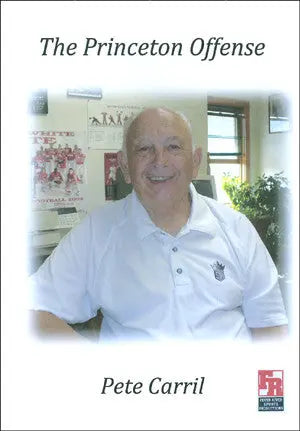 Description
Learn the Entire Princeton Offense from Pete Carril...the Creator of the Offense
Who would be better to learn the Princeton Offense from than it's original creator?  No one else of course.  You'll get almost 4 hours of Pete Carril teaching you Everything about this offense.  He'll show you how to the offense works and what drills to use to teach it.  If you are serious about the Princeton Offense then this is the video set for you as learning from Pete will take your knowledge and ability to teach the offense to your players to the ultimate level.
This DVD includes all four of Coach Carril's original videos. Coach Carril diagrams and demonstrates the intricacies of the Princeton Back Door Offense. Coach Carril has two basic principles, the player in front of you tells you where to go; and if you are overplayed, go back door. He takes these two principles and builds a half-court offense that relies on passing, dribbling, and shooting. Coach Carril adds the high post options to his back door offense.
 Princeton Offense High Post Action
This offense uses the high post to relieve pressure and reverse the ball as well as the usual assortment of back door cuts for the perimeter players. The video will demonstrate how to flow from the high post play into low post play that was taught in the previous video. Also included are tactics versus sagging defenses and powerful opponents.
The shuffle cuts series shows options which include back door cuts, on-ball screens, and more. This part of the offense, like all the others, uses a two guard front and emphasizes the need for all players to be able to pass, catch, and dribble. Also included is the drills video. Running Time: 235 Minutes.
Order your copy of the Princeton Offense & Coach it Like a Pro!