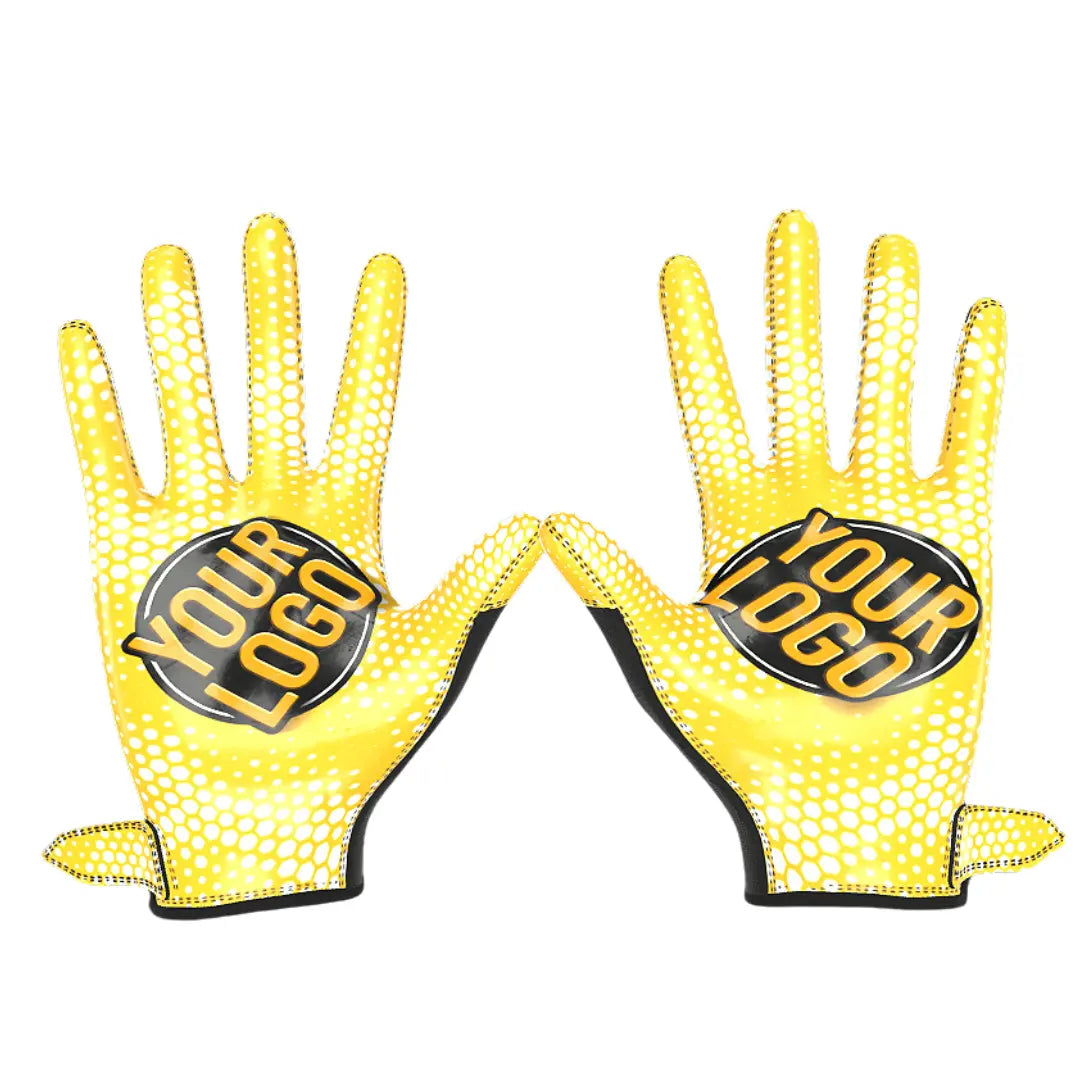 Description
HoopsKing offers top-tier custom football gloves. With HoopsKing, you have the ability to craft fully personalized football gloves and custom receiver gloves. It's just a few clicks away, and HoopsKing empowers you to bring your dream pair of custom football gloves to life. Every aspect of these custom football gloves can be tailored to perfection. Obtain your very own custom football gloves with your preferred designs today!
Our custom football gloves are meticulously crafted using premium materials and can showcase any design you desire. Not only do they sport an impressive look, but they also enhance your performance in any weather conditions. Our custom football gloves are precision-engineered with state-of-the-art technology, significantly improving your ability to make those crucial catches on the football field.
At HoopsKing, we maintain an in-house graphic design department that lets you select your unique designs, colors, logos, and the name and numbers you desire. Express your individuality and personal style with the finest football gloves.
Lightweight, snug, and adhesive custom football gloves designed for exceptional catching ability.
Manufactured specifically for football.
Compliant with NFHS/NCAA/NOCSAE standards.
Affordable football gloves that do not compromise on quality or appearance.
Features a performance grip material palm for an excellent grip.
Boasts a seamless, one-piece palm design.
Premium, tailor-made custom football gloves to meet your specifications.
You can create the exact custom football glove you desire through our in-house apparel design department.
Material of our custom football gloves wicks sweat and dries rapidly.
These gloves excel in all weather conditions.
Exceptionally durable.
Seamless catch panels reduce finger twist and provide essential support where needed most.
They feel great and enhance your team's appearance when worn.
Minimum order requirement: 20 gloves per size/design.
Reasons to Choose Our Custom Football Gloves
Our custom football gloves offer the ideal blend of performance, fit, and longevity. These gloves are meticulously designed with a lightweight back of the hand to provide unparalleled comfort and flexibility while ensuring support and durability.
Features of Our Custom Football Gloves
Endless design options, including elements, logos, and colors.
Complimentary design consultation with our apparel designers.
Football gloves are equipped with ultra-stick palms, ensuring exceptional catching ability and reliability.
Crafted from comfortable and breathable materials to keep your hands cool and dry throughout.
Rapid 3 to 4-week turnaround time.
Adjustable closure for a secure fit. Our Velcro closure wrist strap is designed to protect the player's wrist from potentially harmful movements during the game, ensuring the gloves stay in place for optimal effectiveness.
Customize your football gloves with your logo on the palm, backhand, and finger designs.
Stay up-to-date with the latest football glove designs in 2020.
Transparent pricing with no hidden fees or charges.
Choose from a variety of styles.
Submit your own design or provide inspiration for your desired football glove design.
Design elements and logos that are durable and won't peel, crack, fade, or wash out.
Our football gloves meet NFHS/NCAA/NOCSAE standards, adhering to all requirements regarding glove stickiness.