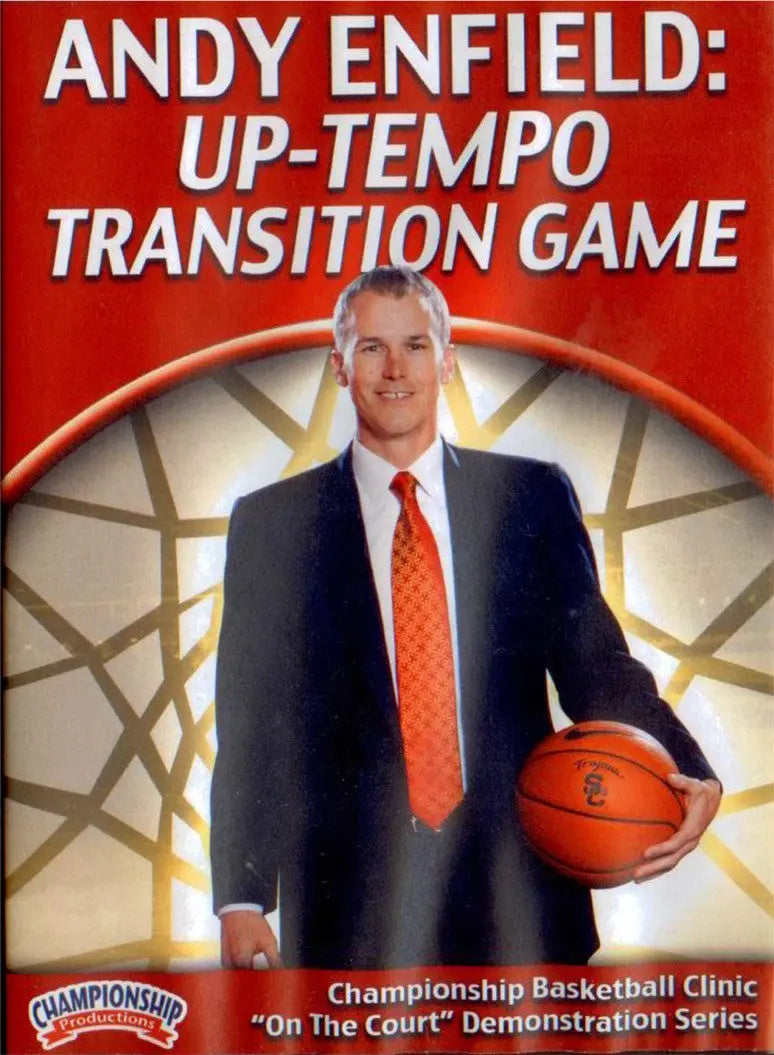 Andy Enfield
(Rental)-Up-tempo Transition Game
$15.99
Up-Tempo Transition Basketball Game As the former head coach at Florida Gulf Coast University, Andy Enfield became the first coach to lead a No. 15 seed into the Sweet Sixteen of the NCAA tournament in 2013. A former shooting consultant with Milwaukee and Boston of the NBA, Enfield is now the head coach at USC and in this video he details the key components to his up-tempo transition basketball game. Coach Enfield begins by introducing three keys to playing an up-tempo style: practice tempo, spacing, and skill development. He goes onto the court to demonstrate a number of drills designed to develop each component. He also shows you how you can tweak your own practice sessions in an effort to help you master these components. Scoring in Transition Basketball Being an up-tempo team isn't just about playing transition basketball. Coach Enfield takes you through half-court actions you can use to score quickly. He shows you ball screen motion breakdowns that he uses to teach players how to practice fast and practice spacing in the half-court offense. In addition, Coach Enfield shows you how to create mismatches in the post and dribble penetration in the lane. In addition to some half-court offense, Enfield takes you through two set plays that complement the ball screen motion offense and an up-tempo style of play. Both plays present scoring opportunities for posts using ball screens. Drills for Transistion Basketball In the final segment, Coach Enfield runs the entire team through a series of skill development drills. The drills focus on attacking from the triple threat position, moving without the ball, and using the dribble drive to score. Each drill prepares players for game situations. You will see Enfield's experience as an NBA player development coach as he provides shooting tips. Whether you are looking to move to an up-tempo style of play or just a coach looking to add to your offensive philosophy, Coach Enfield's brand of up-tempo basketball is the perfect fit for you. Rent this Transition Basketball DVD today.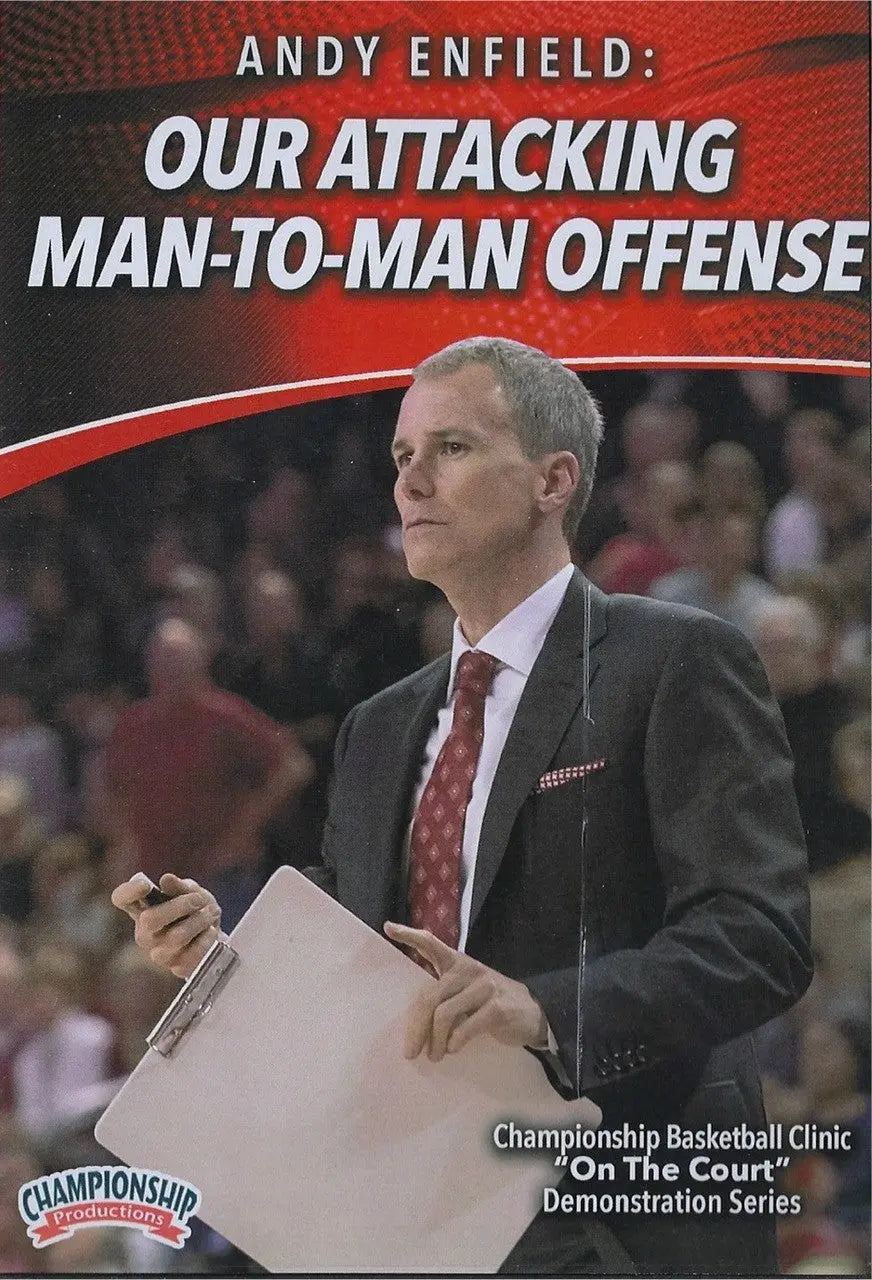 Andy Enfield
(Rental)-Our Attacking Man to Man Offense
$18.99
Man to Man Offense with Andy Enfield Learn to attack man-to-man defenses from one of the best, USC head coach Andy Enfield, in this collection of offensive strategy. Coach Enfield used his up-tempo style of play to take 15th-seeded Florida Gulf Coast to the Sweet Sixteen of the 2013 NCAA men's basketball tournament. In this presentation, you will see and learn some of the most effective ball screen strategies and misdirection that you can incorporate into your offense. Coach Enfield lays out his own playbook for you showing you some of his most effective set plays as well as the continuity ball screen offense that puts tremendous stress on opposing defenses. Enfield also shares the success rates of his plays to emphasize that you shouldn't keep plays in the playbook that don't work. How to Position Players in Man to fMan Offense One of the key strategies employed by Enfield is to take advantage of what each individual player does best. With that in mind, Coach Enfield will show you how to position your players on the floor to give them the best chance at being successful. He will also show you how to position players that may be less skilled than others. Many coaches do not address how to position players, but Coach Enfield believes it is necessary if an offense wants to succeed. Attacking Man to Man Offense You will most certainly find something in Coach Enfield's presentation that you can take and use in your offense. You will see how Enfield attacks multiple areas of the floor in an effort to get high percentage shots. Coach will share with you an offensive system that utilizes motion and screens and can be used against man or zone defense. One thing that makes Enfield's offense so effective is the ability to mask what an offense is doing. Enfield will share with you how he runs multiple plays but out of the same offensive set. The results are one of Division I's highest scoring teams year-in and year-out. Most every offensive set that you can imagine is reviewed in this 73-minute video. Coach Enfield does a masterful job at showing coaches how to put the basketball in the hands of their best player or players. If you are looking for a way to improve on offense, there is something in this video for you!  Rent the Attacking Man to Man Offense DVD today.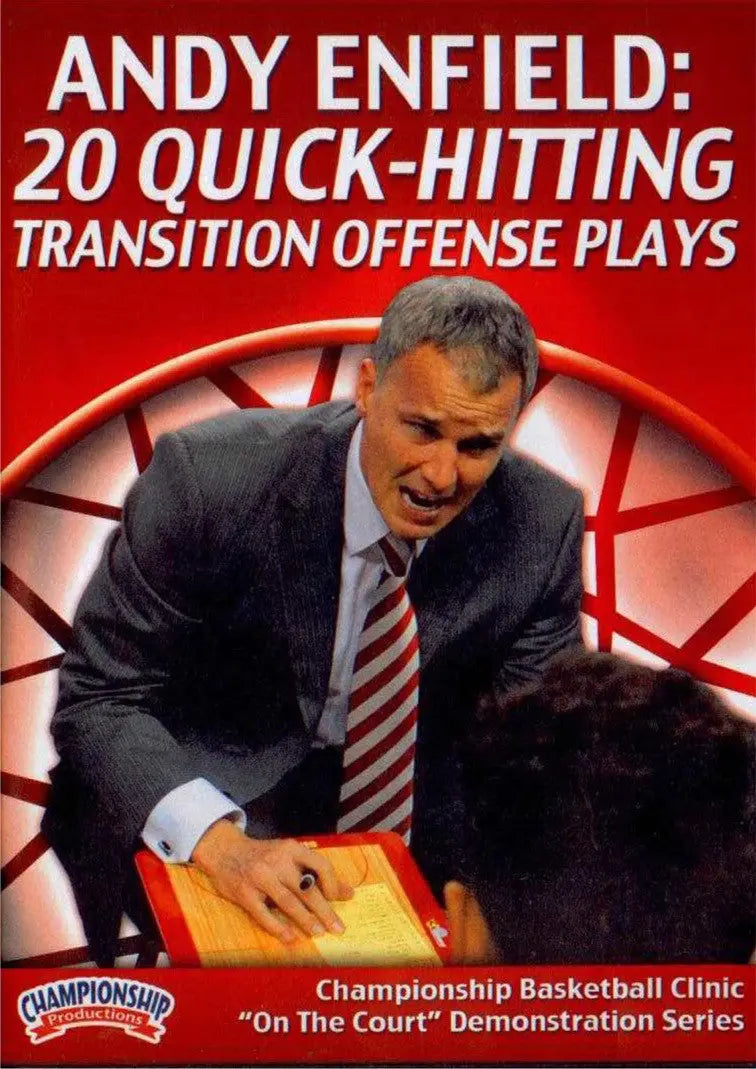 Andy Enfield
(Rental)-20 Quick-hitting Transition Offense Plays
$17.99
Andy Enfield: 20 Quick-Hitting Transition Offense Plays USC head coach Andy Enfield will inspire you to adopt his quick-hitting style of basketball in this video which features 20 different plays used in the transition offense. Enfield was the former head coach at Florida Gulf Coast, a team that became the first-ever No. 15 seed to go the Sweet Sixteen in the NCAA tournament. In this video, Enfield teaches you how to attack a defense quickly and score early in transition before a defense has time to set up. By the end of the presentation, you should discover how to incorporate what Enfield presents into your own philosophy and style of offense. Using on-court demonstration, get an up close look at Enfield's transition offense. Philosophy of Transition Offense Plays Enfield is a firm believer in quick-hitting, fast-paced transition offense. His teams get up the floor and attempt to beat a defense before it has time to get set. For Enfield, the most important concept that players must learn involves getting into the right set up with the proper spacing as quickly as possible. Within two to three seconds of the outlet pass to the point guard, players should be in the right set and space the floor. Transition Plays Coach Enfield presents clearly not just a group of set plays, but also the ideas behind the plays and how to exploit weaknesses within defenses. Enfield then demonstrates more than 20 effective plays that he uses in his transition offense. Some of the specific plays you will see include: Staggered weak side screens Quick rip weak side wing Ball screen Skip action Single drag high ball screen Double drag Wing entry, double high Hit the trailer for flex option Horns action Wing entries Triple handoff into back screen With more than 20 quick-hitting, highly effective transition plays, Coach Enfield's 80-minute clinic video will have you running the transition offense with success in no time. Rent this transition offense plays DVD today.